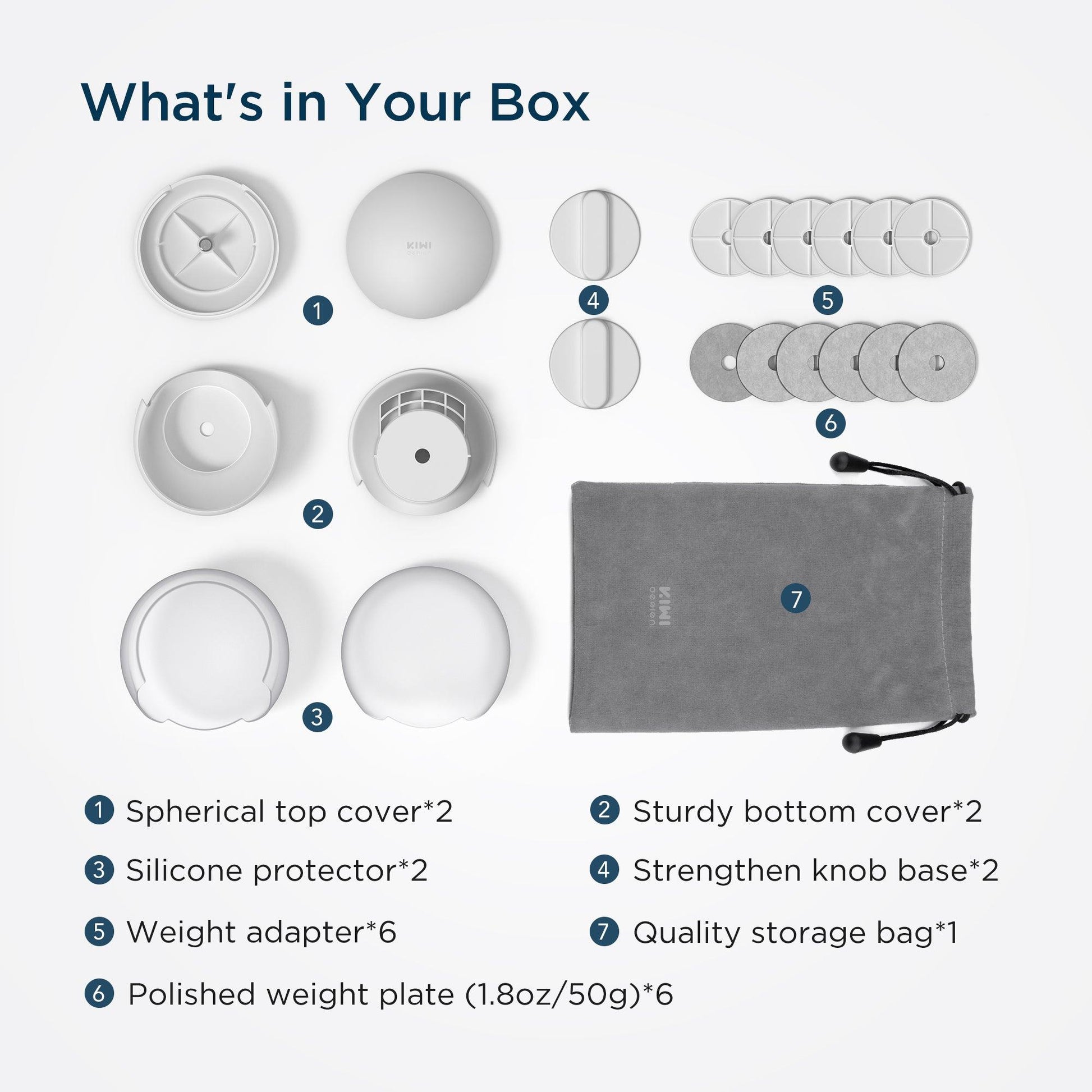 VR Weight Controller Compatible with Quest 2
Sale price
$27.99
Regular price
$34.99
Product description
Shipping & Return
FAQ
VR Weight Controller Fits Quest 2, Immersive VR Fitness Made Easy - KIWI design VR dumbbell controller, specially designed for VR fitness and sports, change the VR game experience that you never have been. Universally compatible with all VR APPs, it completely doesn't affect your Quest 2 controllers' usage. And performs better in VR fitness games such as FitXR, Supernatural, BOXVR, HOLOFIT, OhShape, Synth Riders, and others. (Note: Stock controllers NOT included)

Creative Spherical Design, Upgraded with Protector Cover - Say goodbye to cheap pieces of VR accessories, KIWI design provides our VR game lovers with better choices. With the fascinating spherical design, it looks amazing in your Quest 2 controllers. Thanks to our customer opinions, the transparent protector cover was added in this updated version, to avoid harm from bumps and also make sure smooth signal tracking. KIWI design would be your trusted VR friend all the time

Adjustable Weight to Choose, Power Your Hands - Adopt the method of weight plates and adapters combination, there are weights available for 5.3oz/150g, 3.5oz/100g, 1.8oz/50g, and 0.18oz/5g. You will get a pair of new VR controllers, with 4 different adjustable weights, to get a better immersive experience in VR fitness. Believe that you can never come back to a weightless controller again. Kindly suggest using these VR weight controllers with safety ropes, in case of throwing out

Easy to Install and Remove - Follow the instructions in the package, also the videos and pictures on the product page, quick installation is easy. You can mix and match 3pcs plates or adapters arbitrarily. However, to avoid weight plate shaking or incompatibility, please do not use only one or two or four or more plates and adapters. Just ready for your VR adventure now! (If bare controllers are needed, gently push the screw on the top cover will help remove it easily.)

Lifetime Hassle-free Warranty - What's in your box - Top cover *2; Bottom cover *2; Knob base *2; Weight plate *6; Weight adapter *6; Silicone protector*2; Quality storage bag*1; - Totally 18 pieces of item in the box. KIWI design takes responsibility for each product's quality to our customers. Buy with peace of mind, a lifetime warranty for a hassle-free return or refund. Any pre-sale and after-sale issues, feel free to contact us. Just do a pleasant shopping
Orders under $20 will be charged $5.99 shipping, and over $20 free shipping.
We want you to be 100% satisfied with your purchase. Items can be returned or exchanged within 30 days of delivery.
Must Have Accessory!
The weighted controller is a must for the Les Mills combat workout or any other boxing simulation. However I would also recommend the grip covers with the straps on the outside of your hands for added security. (Also available through kiwi). I can imagine loosing a grip on the standard controllers after an intense workout.
VR Weighted Controller
The weights for my VR controllers are WONDERFUL! They give me just enough weight added to my controllers. Thank you 😊
Unnecessary for most games
For context, I already do martial arts with weights, so I don't really see a point for me to attach these to the ends of my controller when playing vr.
They add great weight and are well customizable, but only need to be used in games like Zenith or Beat Saber, since thats where you actually move your hands around the most. At the same time though, I don't trust Meta's build quality enough to handle an extra 1.5 kg with so much movement and pressure on a thin halo ring. Plus, the halo ring is what your headset uses to track your controllers, so if it ends up ripping off, you need a new pair of controllers.
To be fair, I swing my swords like a mad man in Zenith, so that could be whats causing my fear.
If vr is your only place to workout, these are a great buy, just don't be surprised when Meta fails you, again.
Otherwise, great product, but just adding wrist and ankle weights is a better solution over all.
P.S: The reviews that say you can't use your thumb stick are wrong. If you put in 3 disks per dumbell and you're locked out of using your thumbs, just switch the seal that locks everything in with the other one. The way it's angled when it's sealed correctly will give you enough space to use your thumb stick and buttons.
They look good and make you sweat!
It's a really good product, solid material, makes the controls look good and honestly playing it with workout games it feels like you're using small handweights and getting the max out of the workout! Would order more from Kiwi again!
Loving being weighted down
I love the weighted tops! They add to the difficulty and yet it feel natural. Installation was very simple. They also help with the extended grips as well. The top helps the grip feel secure as it does slide a bit. I just wish they glowed or something.