On-Ear Audio Head Strap Compatible with Quest 2
Sale price
$79.99
Regular price
On-Ear Audio Head Strap Compatible with Quest 2
Product description
Shipping & Return
Ultra-durable design - With meticulously chosen eco-friendly polymer material, our Quest 2 Audio head strap offers over 10,000 bending cycles without breaking.

Superior-comfort design - The widened and thickened pad on the KIWI design on-ear audio head strap provides enhanced support and reduced pressure when equipped, resulting in a highly comfortable user experience.

Precision-engineered hinge - Our well-design hinge allows the headset to flip up to 52°, providing the ability to check your surroundings without fully taking off the headset and extra convenience for users with glasses. Meanwhile, the headphones will tilt open and provide a smooth wearing experience.

Seamless compatibility design - KIWI design on-ear audio head strap is highly adjustable and capable of fitting head sizes ranging from 17.7 to 29.5 inches.

Portable optimized design - KIWI design on-ear audio head strap is specifically designed to fit in the official carrying case and most third-party cases on the market. You can carry both headset and Quest 2 audio head strap in the same case when you are on the go or store them

Immersive sound experience - The exceptional 40 * 9 mm neodymium magnet driver unit on the KIWI design on-ear audio head strap can ensure an unparalleled immersive audio experience

Eighteen-month warranty - Rest assured with our eighteen-month warranty, provides reliable support.

Product specification:
Sensitivity:109.5±3db(1kHz)
Impedance:20ohms±15%
Frequency response range:20-20,000Hz
Drive unit size:40mm*9mm
Material: ABS/PC, PC, TPEE
Connection:3.5mm
Wire material: TPE
Rated power:20MW
Maximum power:30MW

Orders under $20 will be charged $5.99 shipping, and over $20 free shipping.
We want you to be 100% satisfied with your purchase. Items can be returned or exchanged within 30 days of delivery.
The audio is worse then the built-in speakers on the quest 2
The head strap's padding is amazing but I almost have to put the volume to the max to get the same audio quality as the built-in speakers on the quest 2
On-Ear Audio Head Strap Compatible with Quest 2
Absolutely game changing
The package arrived today and it took a little assembling (5 Minutes) but it looked amazing when finished, I tried it on and the headphones worked just like an average headset, it was super comfy, and money well spent, would recommend, as it's a complete game changer and really makes the virtual experience much more realistic
Very immersive experience!
This head strap creates the most immersive VR experience that I have had yet. The headphones are so soft yet have a firm hold on your head. They are noise cancelling so you really feel immersed in whatever you are playing on the Quest 2. The sound quality is better than the stock speakers. The sound is fuller and can go louder than the stock audio. The comfort strap part of the head strap is very good. Good support on the back and is easy to adjust and take off. The only thing this one doesn't have is the battery, but they now have that option as well. For what it is, this is a great product.
Check out my full review here: https://youtu.be/LCYuqJHhjfQ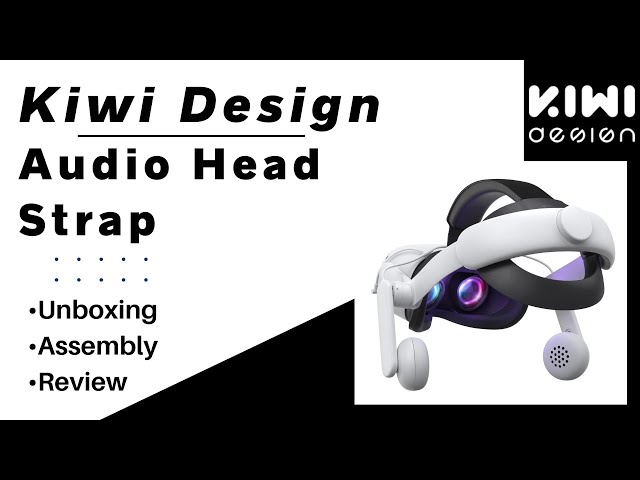 Extremely good feelings
When I bought my Quest 2, I immediately felt that the VR's basic sound system was not good enough. After searching for many months, I finally found KIWI's On-Ear Audio Head Strap, and now I can say that my VR experience is just perfect. This headset is very comfortable, the audio is powerful, the headphones are adjustable and rest softly (but firmly) on the ears. Very good sensations, even with workout VR games like Dance Collider.
Excellent purchase.