Blog
Kiwi Design Q1Pro-2 Grip Cover and Strap for Oculus Quest 2 – Install and First Impressions
by ZhinanZhang on Jul 23, 2021
The Q1Pro-2 Grip Cover and Strap is a single piece of environmentally friendly silicone cover that wraps precisely around the handle of your Quest 2 Touch controllers. Moulded into the side of the grip is a PU leather strap and metal buckle that attaches around the hand of your hand or knuckles to help keep the controller in your hand should you wish to let go over it whilst in the moment of being in VR.
The silicone use is soft yet rough material that feels great and its thickness doesn't affect the bulk of the controller too much, which means the controller doesn't get that much chunkier as it currently is. Its rough material helps your palms to breath, which is ideal if you're working up a sweat during an intense VR work out or gaming session.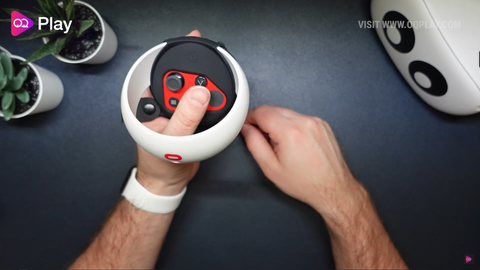 The grip partly covers and protects the front facing button area of the controller. There is a little window cut out for all the face buttons, thumb sensor and thumb-stick and above it is a small indicator of which left or right controller it is for. This cover fastens very well over the top of the controller and fixes down onto two grommets that stick out on the back side of the grip.
On the side, the PU leather knuckle velcro strap is firmly attached to the moulded silicon grip at the bottom and middle points of the grip. This makes for a very comfortable grip with out any increased difficulty in thumb movement that many other grips come with, due to their connection to the sensor ring – an attachment that the Q1Pro-2 avoids, meaning you have no chances of any sensors being obstructed.
The Q1Pro-2 Grip and Strap for the Quest 2 is one of the best grips and knuckle straps that I have experienced to date. The only way they could better it, is reduce the slightly loose plastic around the face button area, and add the ring sensor protection in a material that's close to the VR Cover Halo Protector. But until such a project exists, if you are looking for grip or knuckle straps for the Quest 2, I totally recommend the Q1Pro-2 from Kiwi Design.
 via——OQPlay