Blog
Fruit Ninja VR 2
by ZhinanZhang on Jul 23, 2021
Since the age of mobile phones, Fruit Ninja has been a very suitable game for relaxation and decompression, or at parties, adults and children can blend in very harmoniously. Not pursuing combos, not pursuing score, simply cutting and slashing, it release our stress and joy very much~
Recently, the "Fruit Ninja VR" sequel "Fruit Ninja VR 2", developed and released by Halfbrick Studios Pty Ltd, is currently on the Steam store page, and the work is expected to be accessible later in 2021.
This time I was expected to be very fortunate to get the first trial game. I am very excited! And this time the game also adds the archery gameplay, which can be said to further 'destruct' the arm~
After entering the game, the picture is expected to be very interesting. The cartoon style reveals a touch of oriental atmosphere. In the environment of mountains and water, some watermelons are arranged to practice, and there are even hanging fruit in the sky. You can use bows and arrows to move It was shot down, and it really deserves to be a holy place for ninjas, lol. This environment and atmosphere have greatly improved compared with the previous generation.
Speaking of the experience of the game, because it is an archery action game, I need to raise my hand frequently. For me who lack exercise, I feel sore in my arm after playing for a while, but gestures and quasi-newness of the bow have been optimized very much.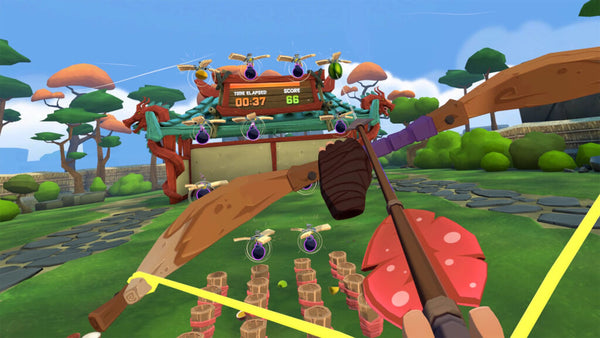 Following the hand, there will be no possibility of quasi-center deviation and other influences on the playing experience. In addition, the game has set various levels so that a novice I can quickly find an archery method that suits me, which is great. Of course, if you are tired from the bow-drawing action, you might as well take a break, then take your ninja knife and play a classic cutting and slashing~
As the name suggests, Fruit Ninja requires physical strength, as well as willpower and endurance. Under the on-the-spot experience, take the test to your heart's content. When the perfect arrow is shot through all the fruit, it must be the best and most decompressed!