Blog
Cooking Simulator VR-Oculus Quest 2 Review
by Zhang Zhinan on Jul 30, 2021
It's a sandbox game where you play as a chef (part-time cleaner, intern, buyer) and I've heard people say before starting the game that you can do whatever you want, as long as you're not afraid of being fired by your boss, making a mess of the kitchen and ingredients is allowed and you can even enjoy the fire (or better yet, don't).
Cooking simulator vr quest 2 steam game,The game is not yet included in the official Oculus platform, so we need to connect to the computer via Oculus link or Air link to start the game. I'm playing this game today via my Oculus Quest 2, through Steam VR.
The game starts with you as a chef and in front of you is a fully equipped kitchen where you can find all the cooking utensils and ingredients you need, but of course there is a price to pay for using these items.
First I found my task on the TV screen above me, it was an order for fried shrimp, which required clarified butter (30g), salt (10g), black pepper (10g), shrimp (30g), which needed to be fried for 50 seconds and then put on a deep plate. The order is complete.
I got the shrimp from the fully stocked fridge, found the black pepper and the nearby butter in the basket, processed them one by one and put them on the deep plate, then delivered them and got 4 stars and 6 dollars to spend, which is so true lol.
Even though I knocked over a bottle of sauce of some kind and broke the plate, it didn't seem to have an effect on my product.
When the second order came, I chose to ignore its requirements and rules, I wanted to make what I wanted to make. I took everything I had and used my usual cooking experience to come up with a (delicious) baked rice with bolognese sauce that I wasn't quite sure was the meal I needed, resulting in a ruthlessly bad review from the customer.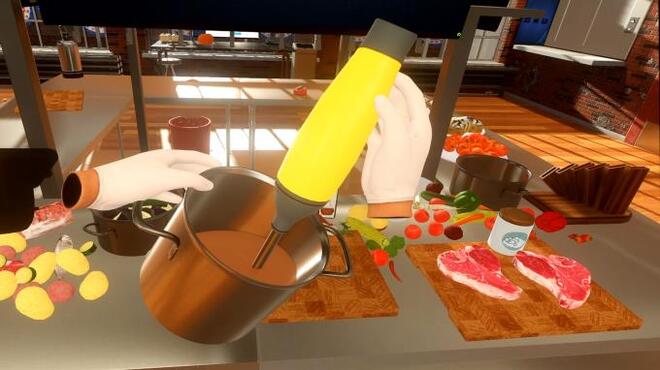 Overall, the experience was very realistic and I have no doubt that I could apply the dishwashing action to a real life dishwashing chore. Of course there are some very tiring parts, some things require you to crouch or bend down to pick them up, which was a bit tiring for me. Hopefully in the future there will be a multiplayer mode for this game, I think that would be a lot of fun (and hilarious)!
1 comment