Blog
What's the best Head Strap for Quest 2? 2023
by Oliver Li on Jul 19, 2023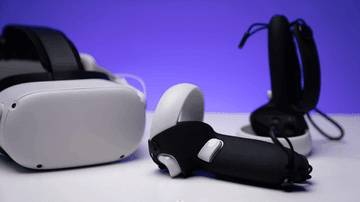 Since the release of the Oculus Quest 2 nearly 3 years ago, many users have expressed dissatisfaction with the original head strap provided by the manufacturer. Although they offered replacements, they still couldn't meet the demands of the majority of users. As a result, numerous Quest 2 users sought to replace their head straps with more comfortable and high-quality alternatives.
Among a plethora of third-party head strap brands, KIWI design stands out as a top choice, consistently leading sales on platforms like Amazon. After conducting our investigation, we discovered the following advantages of KIWI design's Comfort Head Strap:
Ultra-durable design: Carefully chosen eco-friendly polymer material ensures the head strap can endure over 10,000 bending cycles without breaking.

Superior-comfort design: The widened and thickened pad on the KIWI design Quest 2 head strap offers enhanced support and reduces pressure during extended wear, resulting in a highly comfortable user experience.

Precision-engineered hinge: The well-designed hinge allows the headset to flip up to 52°, enabling users to check their surroundings without fully taking off the headset, which is particularly convenient for users with glasses.

Seamless compatibility design: The KIWI design Comfort Head Strap is highly adjustable, catering to head sizes ranging from 17.7 to 29.5 inches.

Effortless maintenance design: The head strap features a detachable top strap pad and head cushion with high-quality PU leather surface material, allowing for easy cleaning and maintenance.
In response to the growing demand for increased battery capacity during VR development, KIWI design has introduced a Battery version of their Comfort Head Strap. Building on the advantages of the original design, the battery version incorporates a 6400mAh internal battery. This provides users with extended battery life for their Quest 2, all while maintaining the comfort, convenience, and durability of the original Comfort Head Strap.


In conclusion, KIWI design's Comfort Head Strap and the Battery Head Strap compatible with Quest 2 have proven to be exceptional choices for enhancing the VR experience. Whether you seek comfort, convenience, durability, or prolonged battery life, KIWI design delivers impressive solutions to cater to the needs of avid VR enthusiasts.