Blog
VR Hero Shooter 'Larcenauts' Update Is All About Immersion
by ZhinanZhang on Jul 28, 2021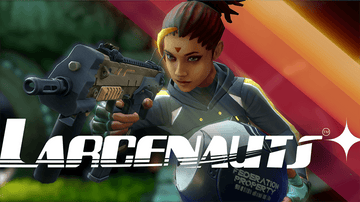 The first major update to Impulse Gears' team-based PvP shooter introduces new interactions like manual reloading and immersive sprinting.
Last month, developer Impulse Gear released
Larcenauts
on Oculus Quest, Oculus Rift, and SteamVR headsets. Today, the company announced the arrival of the games first major update, Immersion Overload, which expands the core gameplay with new immersive interactions.
Available now for $29.99,
Larcenauts
is a multiplayer VR hero shooter has you taking on the role of one of eight class-based characters and duking it out against other players in a variety of 6v6 objective-based game modes set across four unique maps.
https://youtu.be/dU_5TehSYPo
Each of the aforementioned heroes, whether it be the lightning-fast Calima or ultra-powerful VOD, features their own unique set of weapons and abilities which can be upgraded or replaced with more powerful equipment by playing the game and spending in-game currency.
Prior to launch, Impulse Gear shared a developer
roadmap
teasing future updates. Today, we received our first batch of improvements in the form of the Immersion Overload update.
As the name suggests, the Immersion Overload update introduces a handful of gameplay features designed to improve player immersion, such as manual reloading, immersive sprint, and support for bHaptics TactSuit vests just to name a few.
Image Credit: Impulse Gear
You can check out a full breakdown of the update here:
Immersive sprint: This new mode leaves you in direct control of your hands as you sprint. To begin running, simply point your weapon downwards.
Two-handed pivot aiming: A new aiming mode in which both hands are used to aim your weapons.
Manual reloads: You can now restock your weapon manually using your motion controllers and even combine your reload with automatic reloading for additional style points.
Native support for bHaptics TactSuit vests: Feel the impact of gunfire with the bHaptic TactSuit vest.
Free new skin for Calima: Those who login before the end of July 2021 will earn a new cosmetic skin for Calima
Cross-play lobbies: Cross-play lobbies are now live, allowing Steam VR and Oculus players to duke it out together in VR using a unique lobby code.
Spatialized VOIP in lobby: You will now hear your friends' VOIP spatialized in the social lobby.
Localized text English, French, German, Spanish, Japanese, Korean: In-game text localization of the above-mentioned languages now included.