Blog
Roblox Finally Launches On Meta Quest App Lab- Let's See How to Reach
by Alex Melen on Jul 28, 2023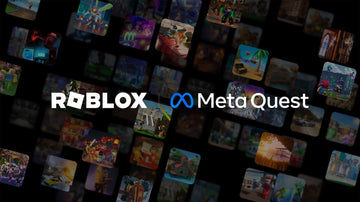 Finally, amidst much anticipation, on
Jul 28, 2023
, Meta Blog released an article titled "Roblox Open Beta Now Live on App Lab," showing us how it all came together.
The immensely popular game creation platform, often considered a metaverse, has made its debut on Quest App Lab, with a full Quest Store release planned for the future. App Lab apps can be shared via
URL
and won't appear in the store interface unless you search for them by exact name.
To get started:
Ensure your Quest 2 or Pro headset is updated (Roblox requires v55 or higher).
Launch Roblox on your headset.
Sign in to your existing Roblox account using the Quick Login option on your computer or phone (Please note that Roblox account creation and password sign-in aren't currently supported on Quest devices).
Once you've installed the Roblox open beta on your headset and logged into your Roblox account, you're all set to begin exploring.
As it's an open beta, there are some known issues you may encounter, but rest assured, the team is actively working on resolving them.
Known issues include:
Buying Robux: While you can purchase items within an experience, buying additional Robux from your Quest device isn't currently available, but this functionality is on the way.
Password Sign-In & Account Creation: These features are not currently supported on Meta Quest devices. Sign into your existing Roblox account using the Quick Login option on your computer or phone.
Distorted Graphics: A rare issue where the graphics in an experience may become heavily distorted.
Recommendations: Personalized recommendations in the "Recommended for You" list are not available at the moment.
Experience Rating: Up/down voting of experiences on the Experience Details page is disabled during the open beta to give developers time to adjust their games.
Graphics Performance: The Roblox team will continue optimizing performance.
Abuse Reporting: You can report abuse from the Roblox UI, but not the button.
Keep in mind that the open beta is a work in progress, and the Roblox team is actively working on making improvements to provide an exceptional experience for users.