Blog
KIWI Design Q8-3 VR Gaming Noise-Isolating Earbuds for Oculus Quest 2 – Install and Review
by ZhinanZhang on Jul 23, 2021
In this video, we take a look at the Kiwi Design Q8-3 headphones for the Oculus Quest 2. These are a stereo pair of noise-isolating earbuds that have been made for the Oculus Quest 2, with its short left ear cable and 3.5mm attachment cable and a longer 35cm right ear cable that you can place either around your neck, or you can choose to feed it around the front or rear of the headset for an integrated audio look.
These earbuds carry a 10mm neodymium magnet driver, with a frequency of 20Hz to 20KHz and an impedance of 32ohms and a sensitivity of 108±4db. The result is a decent level of base and clear highs in games like Beat Saber and any other musical game on the Quest 2. Explosions are have a drive to them and overall the sound from these earbuds are decent.
Its silicone ear caps come in three sizes. The medium size is pre-fitted and there is a packet containing the large and smaller sizes. With either pair selected or by using a mix of either ear cap, you can get a decent level of noise-isolation. This creates a deeper level of immersion in VR games, but at the sacrifice of not being able to hear anyone or anything around you. So bear that in mind if you share the room space with anyone else whilst you're gaming.
The cable on the Q8-3 is a little on the thin side, which might seem better for routing the cable around the headset, but I found its less rigid structure to make it harder to keep its shape when attached around the head-strap band.
I also found its ear caps to have a decent seal in my ears, but its less cone-like shape prevent them from really getting into my ears. But a I was easily able to create a decent seal in my ears and that helps with drowning out any noise around me.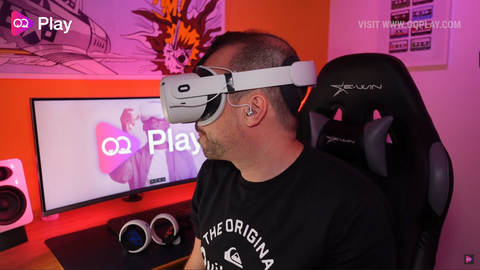 If you're looking for in-ear headphones for your Quest 2, you can't do no wrong with the Q8-3 ear buds from Kiwi design.