Blog
KIWI DESIGN Produce Controller GRIP Cover White Straps Review
by Zhang Zhinan on Jul 29, 2021
By Alex  "EL PASKO Pascoli"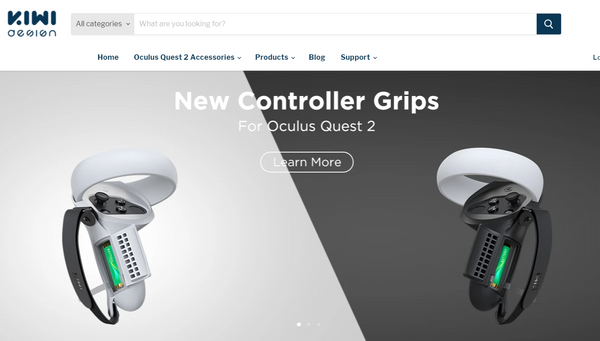 The first time i bought Oculus 1, apart the happiness for this new device, i noticed that has something doesn't work good, like the head strap, face cover, and the grip whit the controllers, especially for the problem about you have to keep it in your hands and stay in warning for do not open hands never!
So i started to search in internet for some device supports, which will not take too much money. Immediately a particular Brand came on my attention : KIWIDESIGN!
Apart the multiple supports solutions they propose on their Site  www.kiwidesign.shop. I looked suddenly the " CONTROLLER GRIP COVER WHIT STRAP ", oh, that's what i need!! This because the firs problem i had, cause especially during summer my hands sweat a lot, was to keep the grip on the controllers and have the possibility to open hands during play games or VR apps. So KIWI DESIGN invented the COVER GRIP FOR CONTROLLER WHIT STRAPS, whit a great presentation and special opportunity to talk to them and the products are all for a cheap price!!!
I was so happy to found that. And this was just the beginning, but i'll write other reviews step by step... About the controller cover the first sensation turns around the wearable, very easy to " install " , comfortable and the grip are great! Straps also are very useful and easy to set…tho i can finally open my hands!
The funny thing is that you don't need to follow the instructions, it's so easy, just be sure it fit good. You can play very hard like fitness applications, boxing, running and sports in general without problem!!!! Only look where you put your hands far from walls or physical limits, then you can enjoy more, about UI is an " aptical " experience that upgrade itself.
A long story… in a word, from KIWIDESIGN, i've found in the past, now, and in the next future the best way to improve myself in Virtual Reality supports and comfortable high way to approach Oculus Quest 1 and 2.
Talk about the new version grips cover, I'm flattered to gave a little drop of contribute to the extension in Cover Grip whit the possibility to change batteries of both controllers, throw a little rubber door then you can open easily.
So…
Thanks again KIWIDESIGN!!!
1 comment